Delhi is the Most Polluted Capital in the World in 2021
Even breathing in Delhi, the Indian capital in the ongoing month was metaphorically represented to be the same as smoking 50 cigarettes per day. Delhi is the most polluted capital in the world in 2021 and has gained this unenviable title due to the massively degraded air quality this month.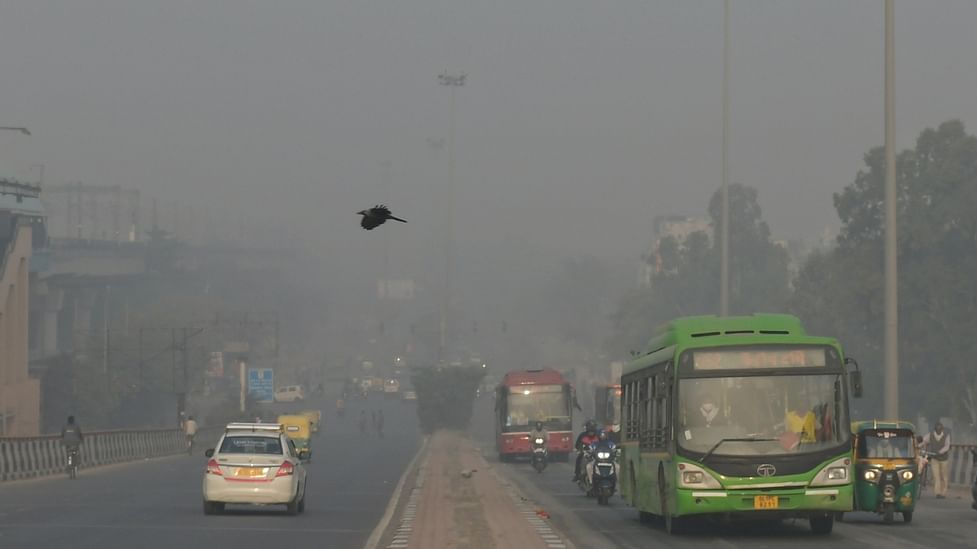 Pollution took such a big turn, on the 8th of November, that an air quality index of 999 was reported by the pollution monitoring stations, which is far beyond the limit which is set for the worst category of air quality and made Delhi the most polluted capital in the world.
▶ Due to this hazardous decline in the air quality, a rapid impairment in visibility took place all around the city which led to insane car traffic on the highways, delay and cancellation of trains as well. All the flights by United Airlines were also cancelled keeping the situation in urgent consideration.
▶ There was a 20% rise in the patients having respiratory problems and other pollution-related illnesses, as reported by the hospitals. The doctors now consider it to be a public health emergency.
▶ Mariela Cruz Alvarez who is Costa Rica's ambassador to India, developed a severe infection in the respiratory system, as posted by her in a viral blog, she was taken to the headquarters in Southern India later.
▶ The severe air pollution problem in Delhi has emerged consecutively for the third time in a row.
Delhi is the most polluted capital in the world: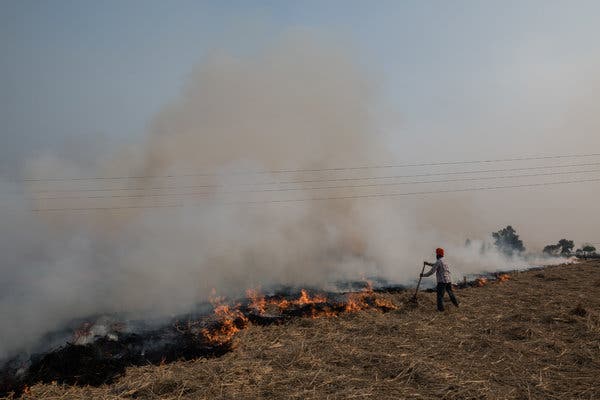 Farms in the adjacent states of Punjab, Haryana, and Western Uttar Pradesh have contributed to the pollution. Farmers burn agricultural stubble, notably the residues of the rice crop, to prepare the fields for planting wheat and return nutrients to the soil after the rice harvest.
The pictures of the burning crops in India and Pakistan were captured by NASA's Suomi NPP satellite. It was reported to be creating a grey pollution cloud over the flyover in October.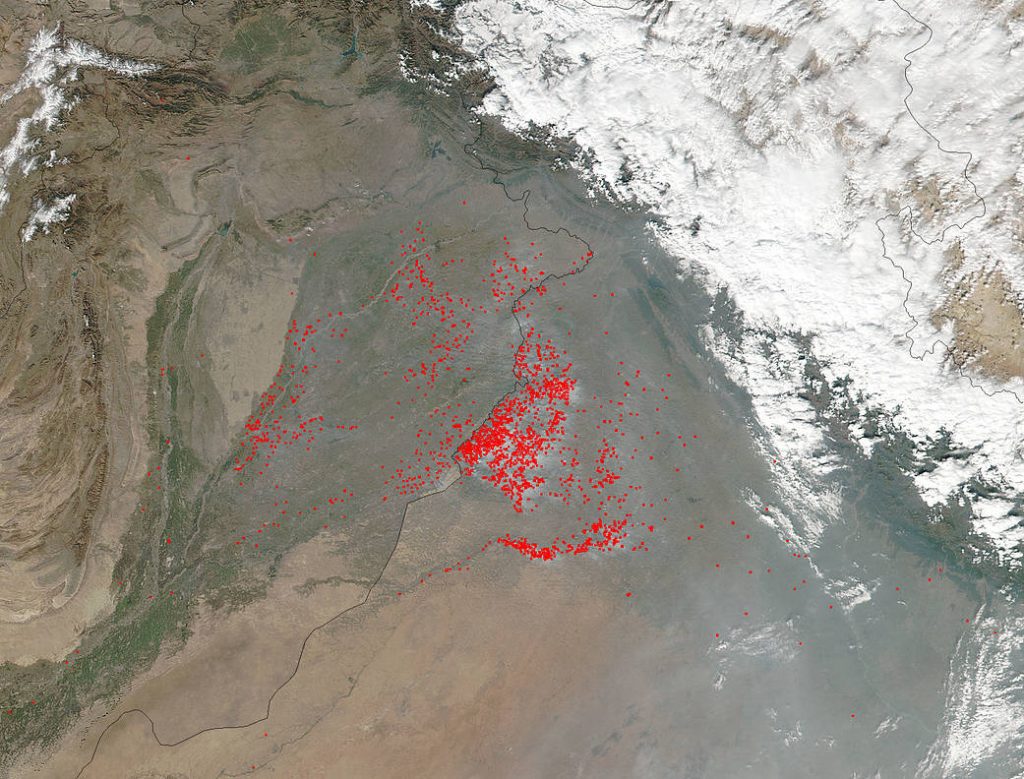 However, what makes Delhi's haze special is that smoke from fires outside the city is combined with pollution from construction, automobiles, and fireplaces used by the poor to cook and stay warm. In the cooler winter months, the combination of rural and urban pollution intensifies, and this year's air currents through the region have been exceptionally slow, allowing the polluted air to remain.
The terrain of North India also works as a pollution trap, making it impossible for the region's millions of residents to escape the poisonous air. Delhi is the most polluted capital in the world has become less habitable due to this very poor air quality. That's why people are fleeing Delhi for rural areas outside of the pollution zone, where they can breathe fresher air.
Impacts of Delhi's pollution standard on humans and the environment?
As Delhi is the most polluted capital in the world, it is causing threats to the health of man and the environment. Many health-related problems in urban areas are generally respiratory problems that arise due to air pollution. The status of air pollutants in the capital city has undergone many ups and downs in terms of the pollutant levels and hence the measures implied for their reduction.
▶ In Delhi, a slew of studies has looked into the impact of air pollution on respiratory functioning and morbidity. The Central Pollution Control Board conducted the most extensive analysis of them all in 2008, which found substantial connections with all relevant unfavorable health. outcomes.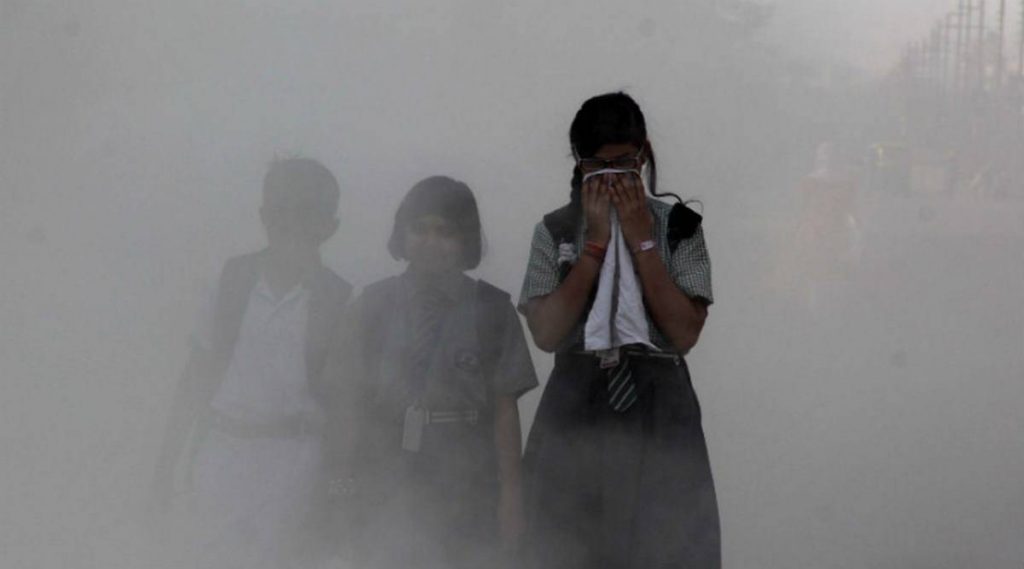 ▶ As Delhi is the most polluted capital in the world, a link between indoor air pollution and respiratory illness has been established in numerous investigations. The respiratory morbidity of children has been the focus of some of these investigations.
▶ Other studies in children have discovered similar links between particulate matter in the environment and attention deficit hyperactivity disorder, as well as between vehicular air pollution and elevated blood levels of lead (a potential risk factor for abnormal mental development in children) and decreased serum concentrations of vitamin D metabolites and lower mean haze score (a proxy measure for ultraviolet-B radiation reaching the ground).
▶ Important associations with many relevant health outcomes which turn out to be fatal or adverse.
◉ The results were compared to those of a West Bengal rural control population. When compared to rural controls, Delhi had a 1.7-fold greater prevalence of respiratory symptoms, with an odds ratio of 1.59 for upper respiratory symptoms and 1.67 for lower respiratory symptoms (dry cough, wheeze, dyspnea, chest discomfort).
◉ Current asthma and physician-diagnosed asthma were substantially more common in Delhi participants than in controls.
◉ The lung function of 40.3 percent of Delhi residents was reduced, compared to 20.1 percent in the control group.
◉ Non-respiratory effects were also observed in Delhi to be greater than in rural controls.
◉ Hypertension was found to be positively connected with respirable suspended particulate matter (PM10) levels in ambient air, with a prevalence of 36 percent in Delhi against 9.5 percent in controls.
◉ In Delhi, the percentage distribution of mortality due to air pollution is shown. Delhi's CPCB is the source of this information. Indoor air pollution has been shown to have a major influence on pregnant women and children in recent research.
◉ According to WHO data from 2012, 4.3 million people die prematurely each year as a result of sickness induced by household air pollution caused by improper use of solid fuels for cooking. As a result, numerous actions and steps must be taken to address the causes and effects of air pollution, and the government has implemented some of these efforts, which are listed below.
Why has the Delhi pollution scenario become a global concern?
Due to a mix of smoke from thermal plants and brick kilns in the capital region, effluents from a congested transportation network, stubble or biomass burning by farmers in surrounding states, and a lack of cleansing winds make the level of pollution extreme. That's why Delhi is the most polluted capital in the world.
Even though technical solutions are within reach, the effort must overcome a lack of policy cooperation between the federal, state, and municipal governments.
The toxic pollution cloud caused in the capital city of India risks the health of many people. It is a threat to the health of children, the elderly and ill, and all other residents.
Particulate matter (PM2.5 and PM10) levels in Delhi greatly exceed national and WHO guidelines and are the primary cause of the city's high cardiovascular disease rate.
◉ The air in Delhi is reported to contain large quantities of nitrogen oxide, sulfur dioxide, and carbon dioxide which increases the level of toxicity in the environment.
◉ This threatens the lives of people living in and around the city by causing a higher risk of heart attacks, high blood pressure, strokes. Besides all this, it also worsens the respiratory syndromes and complications from COVID-19.
Delhi Hazardous Air Pollution 2021 | Image Credit: www.statista.com
Particles from big power plants and refineries, as well as cars and stubble burning, are the primary sources of particulate emissions in Delhi. According to the experiences of Bangkok, Beijing, and Singapore, reducing air pollution by one-third by 2025 is an ambitious but achievable objective that, if maintained, may add two to three years to people's lives. The current initiative aims to address all three sources, although it will require significant implementation.
Delhi is making progress on three fronts at the same time: energy, transportation, and agriculture. East Asia has great lessons to share in each scenario
The environment minister of Delhi has ordered the shutdown of 11 coal-fired power facilities within 300 kilometers of the capital.
▶ However, policy implementation has to be improved: Two deadlines for installing flue-gas desulfurization units to minimize sulfur dioxide emissions were missed by all of the plants. Ten coal-fired power plants failed to meet a December deadline to install pollution control devices last year.
▶ Beijing has provided useful insights in reducing PM2.5 concentrations by more than 40% since 2013. Beijing replaced four major coal-fired power facilities with natural gas-fired power plants
▶ With stronger regulations and inspections of emitters, the local administration forced 1,200 enterprises to close. Bangkok's inspection and repair programme was a success.
Delhi has tried mobile enforcement teams to monitor vehicles for pollution, public awareness programmes, investments in MRT systems, and the phase-out of outdated commercial vehicles.
▶ The Delhi government's recent push for electric vehicles is promising, but industry response and customer buy-in will be crucial.
▶ Because of bad administration at every level, overall achievements in reducing pollution have been dismal. Investing in public transit, especially mode integration, and last-mile connectivity will result in better outcomes.
▶ Singapore's automobile ownership and use regulations, as well as its upgraded transit networks and promotion of pedestrian traffic and nonmotorized transportation, should be studied by Delhi.
🔴 Better farming practices:
In the last decade, agricultural stubble burning in Delhi's bordering states has become a major source of pollution.
▶ The Supreme Court of India imposed a blanket ban on stubble burning in 2019 and chastised officials in two of these states, Punjab and Haryana, for allowing the illegal practice to continue.
▶ Poor farmers say that they don't get enough money to properly dispose of post-harvest stubble, thus political will to act is needed.
▶ Spraying a chemical solution to degrade the crop residue and turn it into manure has been recommended by the Indian Agricultural Research Institute as a low-cost solution to the problem of stubble burning.
It is necessary to improve coordination. When Singapore was hit by a record-breaking haze in 2013 as a result of agricultural waste burning in surrounding nations, the Environment Agency and the ministries of education and manpower collaborated to issue guidelines based on a Pollution Standards Index to reduce haze's health effects. In China, the United Kingdom, and Australia, Stubble Burning has been outlawed or discouraged.
Some steps have already been taken from previous High pollution standards?
The Chief Minister of Delhi, Arwind Kejriwal, made an announcement about the "winter action plan" that prioritizes factors like dust control which can be done using bio decomposers, checking the burning of wastes, installing smog towers as well as checking vehicular emissions to combat air pollution in the city.
▶ He filed an appeal for the governments of the surrounding states to come together and work for making the air cleaner and purified in some way.
▶ He also encouraged the federal government and states to provide free bio-decomposer spraying for in-situ agricultural residue management, similar to what his government has done in Delhi.
▶ "The Pusa bio-decomposer has been given a solution by the Delhi government to the problem of stubble burning. We hope it will be put to the best possible use" he stated.
▶ According to Kejriwal, the Delhi administration has organized 75 teams to audit construction sites to limit dust pollution and 250 teams to monitor rubbish burning.
What can be done to lower the pollution level?
🔴

Use of public transportation:
One of the most significant sources of air pollution is vehicular pollution. Toxic gases such as carbon monoxide and nitrogen oxides are released by our vehicles, such as cars and two-wheelers, polluting the air. To avoid the city's air becoming increasingly poisonous, we should rely on public transportation, which will save money while also conserving the environment.
As witnessed, a large number of people just prefer to burn the wastes produced instead of dumping them in the municipal junkyards out of laziness. This releases gases with higher toxic content, polluting the air which we respire and degrading its quality again.
◉ The government should take harsh measures against violators, including fines and prison time.
If you just need to travel small distances, you should either walk or ride your bike. Both methods will aid in the reduction of air pollution produced by our personal automobile use. At the same time, it will assist us in maintaining our health. Using an inverter for power backup: During power outages in the city, diesel generator sets are prevalent.
◉ Although the Delhi Pollution Control Committee (DPCC) has outlawed the use of diesel, petrol, and kerosene-fueled electricity generators in the city, residents should be urged to use inverters for backup power.
◉ Keeping landfill fires at bay: We have witnessed fires at garbage sites in Delhi regularly, and they can last for days or weeks. The smoke from such fires engulfs the city, causing harmful chemicals and an unpleasant odour to spread. The city's municipal bodies must take extra precautions to avoid fires at landfills.
Delhi is driven by a sense of urgency as it prepares to become the world's most populous metropolis by 2030. Anti Pollution activities are being stepped up in the face of a mounting environmental and health crisis.
To succeed, however, the various levels of government must harness political will to invest more, collaborate across borders, and urge businesses and residents to contribute their fair share.