UN New World Agenda 2030 - 17 Sustainable Development Goals
The UN New World Agenda 2030 is a set of 17 Sustainable Development Goals. The Agenda is the result of the 2015 United Nations (UN) Conference on Sustainable Development (Rio+20) and the successor to the Millennium Development Goals. The agenda's 17 sustainable development goals, 169 targets, and 230 indicators are intended to be integrated into the policies in every country.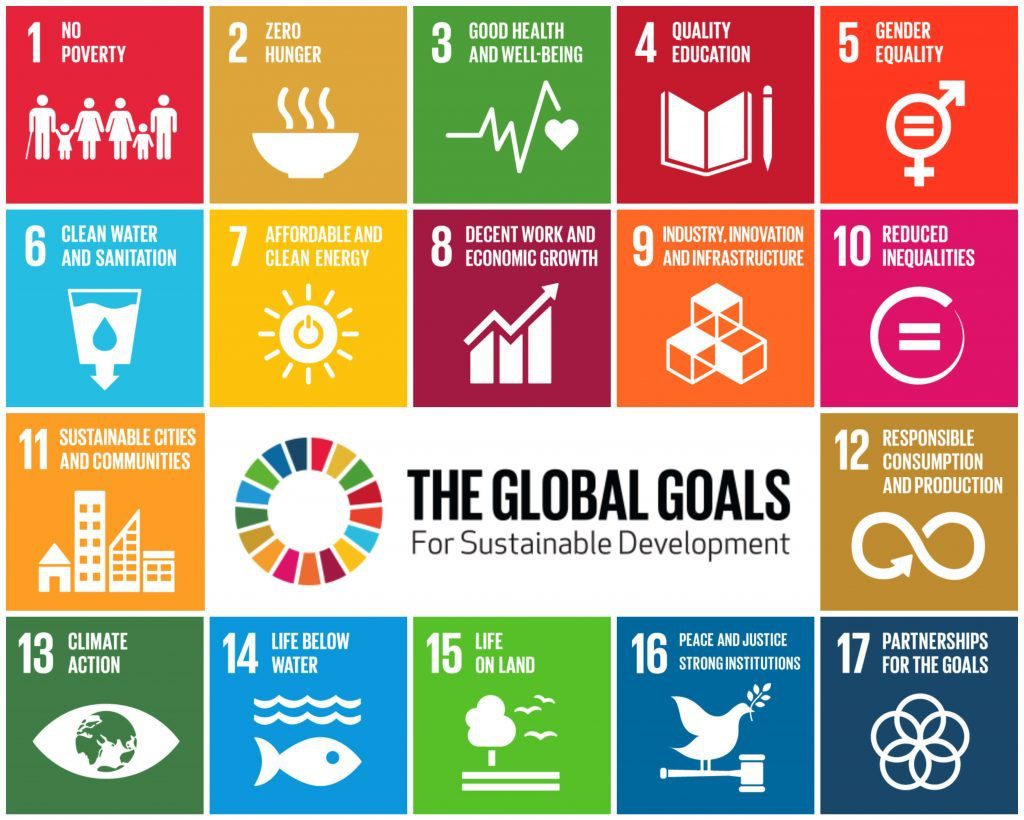 For a long time, from generation after generation, the name of economic development has been exploited resulting in environmental deterioration which has only led to degradation of land, soil erosion, air and water pollution, deforestation, etc. This destruction to the ecosystem outweighs the gains of possessing a better capacity for output of goods and services if graphed statistically.
What do you mean by sustainable development?
Sustainable development is a means through which the advancement of a nation on an economical graph can be done without having to jeopardize the quality of the environment for forthcoming generations.
Sustainable development can likewise be interpreted as a step towards satisfying the general demands of the current generation without allowing to compromise the capability of the subsequent generations to satisfy their own needs which in terms could be declared as being directly comparable to the deterioration in the condition of the environment.
The notion of sustainable development was described by the Brundtland Commission Report in 1987.
What are the objectives of the UN New World Agenda 2030?
The 17 Sustainable Development Goals target to attain balance in economic, social, and environmental sustainability. UN Agenda 2030 seeks to realize human rights, achieve gender equality, eradicate poverty, attain peace justice, and strong institutions. All these goals have the ambition to create a new universal agenda. Thus, the UN New World Agenda 2030 has its unique target objectives.
In the year 2015, The Sustainable Development Goals (SDGs), also known as Global Goals were adopted by all the Nations associated with the United Nations for carrying out the objective of ending poverty, reducing the disparity between various religions, and developing a better, more harmonious and flourishing society by the year 2030.
◉ The SDGs were taken into force so as to establish a world where no one is left behind.
◉ The SDGs can scarcely be accomplished without an absolute realization about child rights.
◉ For the 2030 promise to be delivered, the world leaders are working through a structural strategy, meanwhile, the children from all over the world are rising for their rights of obtaining a safer tomorrow by having a cleaner environment, better education quality, and proper health conditions.
What we undertake to ensure the rights of the children of now, reflects upon the heads of the world tomorrow.
In the context of achieving the SDGs, more than 100 Member States have reiterated their commitment to children's rights. UNICEF collaborates with governments, allies, and other UN agencies to help countries guarantee that the goals are met for and by all children, now and in the future.
◉ The Sustainable Development Goals (SDGs) are based on the MDGs' achievements and a willingness to strive even more to eradicate all types of poverty.
◉ The new Goals which have been decided are exceptional in which they call for action by all countries even if it's either poor, wealthy, or middle-income to increase prosperity while preserving the health of the planet alongside.
◉ They acknowledge that eradicating poverty requires policies that promote economic growth and meet a range of social needs such as education, health, social protection, and job opportunities, as well as measures that address climate change and environmental conservation.
Even though the SDGs are not legally enforceable, nations are expected to maintain control and develop national frameworks for achieving the 17 goals.  Countries have the primary obligation for follow-up and analysis of the advance made in implementing the Goals, which will involve quality, handy and timely data collection
Regional follow-up and review are based on national-level studies. They also contribute to follow-up as well evaluation worldwide.
What are the 17 Sustainable Development Goals?
(1)

End poverty in all its forms, everywhere

:
◉ Poverty is a major issue in today's world. It not only denies children their most necessary rights to health, water, body nutrition, shelter, education, protection, etc but also diminishes their chance at setting up a better future for themselves and the upcoming generations.
◉ Without global action, child poverty is prone to fortify social disparity and cut off the most vulnerable girls and boys from the services they require to sustain and prosper.
(2)

Ensure an increased nutrition and food security chart, the end of hunger, and to promote better and sustainable agriculture

:
◉ The foundation of a child's survival, health, and development is good nutrition. Well-fed children are better prepared to grow and learn, to participate in their communities, and be resilient in the face of illness, catastrophe, and other adversity
(3)

Ensure people of all ages are living a healthy life in accordance with their surroundings

:
◉ More children survive now than ever before. Nonetheless, 6.2 million children and young adolescents died in 2018, the majority of them from preventable causes.
◉ Aid countries in their fight against non-communicable diseases, as well as youngsters with mental illnesses, developmental delays, and disabilities.
(4)

Ensure that all students receive a high-quality, inclusive, and equitable education, as well as access to lifetime learning opportunities:
◉ Today, more children and adolescents than ever before are enrolled in pre-primary, primary, and secondary school. And in general, girls and boys attend school in nearly equal numbers. However, many youngsters do not learn as a result of their education.
◉ The progress in enhancing educational access and learning quality has not been uniform over the world. It is critical to ensure that all children have the opportunity to attend school and study to combat poverty, prevent sickness, and build a more resilient and peaceful society.
(5)

Empower all girls and women and achieve gender equality:
◉ Dropping out of school to take over household duties, being forced into child marriage, dealing with gender-based violence ─ harmful gender norms have many forms.
◉ Gender disparities can start at birth, and they enlarge as children age.
◉ Approximately 650 million girls and women have been married as children around the world, with over 200 million having experienced female genital mutilation.
◉ Gender equality is a human right. It is likewise a necessity for diminishing poverty and promoting development.
(6)

Ensure the availability of clean water and sanitation for all:
◉ Sustainable management of water resources.
◉ Access to safe water and sanitation.
◉ Provide significant leverage for existing investments in Health and Education.
◉ Strengthening the resilience of watersheds. 
◉ Protecting and restoring aquatic ecosystems and their biodiversity to ensure water purification and water quality standards.
(7)

Ensure that resources of reliable contemporary energy available at affordable prices are accessible to everyone:
◉ Access to affordable and clean energy is vital to children's progress and well-being.
◉ And the benefits of renewable energy extend beyond physical health.
◉ In addition to limiting the discharge of noxious fumes, renewable energy can contribute to lighting and connectivity to areas without power grids.
◉ This helps to support education by allowing for the cooking of school meals and the charging of solar lights for students' studies.
(8)

Encourage equitable and long-term economic growth, as well as full and productive employment and good labour for everybody:
The unemployment rate of global youth is 13 percent at today's date which is calculated to be 3 times higher than the rate of adults.
◉ Without immediate investment in education and skills training, the speedily expanding populace of young people – predicted to reach roughly 2 billion by 2030 – will be widely unprepared for the labor pool.
Child labour is both a source and aftermath of poverty, emphasizing social disparity and unfairness.
(9)

Ensure the building of more resilient infrastructure and encourage industrialization which is both inclusive and sustainable alongside encouraging innovation.
The unemployment rate of global youth is 13 percent at today's date which is calculated to be 3 times higher than the rate of adults.
(10)

Reduce inequality within and among countries.
◉ Progress to annihilate poverty has been unsteady. Poverty is just one of the reasons kids may be cut off from fundamental care and utilities.
◉ Across the world, girls and boys are likewise excluded owing to prejudice on the premise of gender, impairment, language, and ethnicity.
◉ Marginalization makes it troublesome for groups to have progress and get liberated from poverty.
(11)

To make cities as well as other human settlements with better safety and inclusion along with making them resilient and sustainable.
Support governments to establish urban zones where children can access vital utilities, fresh air, and water; and where they feel secure to play, learn and develop.
(12)

Ensure sustainable consumption and production patterns.
Children are the least responsible for environmental deterioration, still, they will experience the highest handicap of its impact – predominantly in the form of health and developmental issues.
Decades of evidence indicate that widespread behavior modification, such as recycling and utilizing plastic, usually starts with children.
(13)

Urgent actions to be taken to fight climate change and its different impacts.
◉Adequate responses to environmental change are indispensable to support the world's children and fulfill their rights.
◉ Environment change is a direct hazard to a child's capacity to endure, develop and prosper.
(14) The oceans, seas, and marine resources should be conserved and sustainably used for sustainable development.
During the times of natural disasters like drought or flood, there are different zones where there is an increase in the sea level due to the unreasonable melting of ice and snow and this makes the children and the people cut off from the only source of water they could rely on.
The rise in the sea levels can give rise to issues like saltwater infiltrating freshwater sources, which makes the water undrinkable.
(15) To provide protection, restoration, and promotion to the use of sustainability in terrestrial ecosystems. Also, manage the sustainability of forests and seize and reverse the process of land degradation and loss of biodiversity.
Land degeneration, collectively with forest, species, and biodiversity destruction, is linked with climate change and presents a major risk to a child's capacity to endure, develop and prosper.
(16)

For sustainable development, promote peaceful and inclusive societies, ensure universal access to justice, and construct effective, responsible, and inclusive institutions at all levels.
◉ No child should ever be endangered by cruelty, misuse, or oversight. Yet lots of children around the world go on to suffer brutality in their homes, schools, communities, and online.
◉ Children displaced by conflict and calamity are especially susceptible to violence, including child labour and other forms of exploitation.
◉ Violence has many forms: emotional, physical, sexual which can have effects that last for a lifetime.
◉ Witnessing or suffering violence destroys a child's health, well-being, and potential.
(17)

Ensure the strengthening and revival of the global partnership of the implementation mechanisms of sustainable development.
Partnerships are essential for achieving positive outcomes for all children. To achieve the SDGs, everyone has a role to play.
What is the 2030 agenda for Sustainable Development?
This Agenda is considered as a blueprint of action for the people, planet, and our prosperity. It also undertakes to enhance universal peace in greater freedom.
▶ We believe that eliminating poverty, including extreme poverty in all of its forms and aspects, has proven to be the topmost global challenge and a very important prerequisite for sustainable development.
▶ All countries and all stakeholders, operating in collaborative partnership, will implement this strategy.
▶ We are determined to unfetter the human race from the oppression of poverty and wish to revive and secure our planet.
▶ We are resolved to take the daring and transformative steps which are crucially required to shift Earth onto a sustainable and resilient path.
▶ As we embark on this shared quest, we vow that no one will be left behind.
▶ The demonstration of the scale of 169 targets and the aim of the latest universal Agenda is given by the 17 SDGs.
They seek to improve on the Millennium Development Goals and accomplish what those did not attain.
▶ They seek to realize the human rights of all and to attain gender parity and the empowerment of all women and girls.
▶ They provide stability to three of the important aspects of development which are the economy, social and environmental which are all coordinated and indivisible.
The new Agenda is influenced by the purposes and doctrines of the Charter of the United Nations, including a full appreciation for international law. It is based upon the Human Rights declared on a universal level, international human rights treaties, the declaration of the Millennium Declaration as well as the 2005 World Summit Outcome Document. It is also informed by other documents like the Right to Development declaration.
▶ It reaffirms the summary of all the concluded points of the primary UN conferences and summits which have served to build the new Agenda alongside establishing a sturdy groundwork for sustainable development.
▶ It reaffirms all the doctrines of the Rio Declaration on Environment and Development, consisting of, inter alia, the principle of common but differentiated responsibilities.
The commitments, as well as the challenges integrated with these necessary conferences and summits, are considered complementary and these call for incorporated solutions. A new and improved approach is required, to effectively address them.
Bringing poverty to an end in all its forms and shapes, fighting the feeling of inequality within and among countries, the preservation of our planet by creating a sustained and sustainable economic growth with inclusion as well as fostering social inclusion are linked to each other alongside being interdependent.
All the world leaders haven't come together before and pledged common action and endeavor across such a broad and global policy agenda.
We are starting our action on a mission together on the path towards sustainable development, dedicating all of ourselves to the idea of global development and of "win-win" cooperation which is supposed to bring great dividends to all countries as well as all parts of the world.
▶ This reaffirms the fact that every State always has, and shall freely exercise, full permanent sovereignty over all its wealth, natural resources, and economic activity.
▶ The Agenda is to be implemented for the complete benefit of all, including present-day and future generations.
▶ In doing so, these actions reaffirm our voluntary agreement to international law, and The Agenda which is to be maintained is taken into action like it is in a manner that is coherent with the rights and obligations of different states under International law.