UN COP26 - Is it Too Late to Solve Climate Change Crisis?
The UN COP26 was the most important Climate Change Conference conducted by the UN this year. This conference is hosted in Glasgow, Scotland by the UK government from 31st October till 12th of November 2021. The UN COP26 was the continuation of the Earth Summit, 1992, and also the Paris Agreement, 2015.
Our whole world is getting warmed up due to the fossil fuel emissions caused by human use of coals, oils, and gas. Very intense weather conditions like floods, drought, and heat waves have been linked with adverse climatic change all around the world which has been at the height of their extremity.
 The recent decade was reported to be the warmest decade it dates on record and on the basis of it urgent collective action was imposed by the governments of different countries.
▶ The crisis caused by the climate issues isn't vague anymore, the consequences produced by the emission of centuries of emissions of greenhouse gases are affecting the lives of people up to this day.
▶ Failure to act now will result in a reversal of development gains for society's poorest and most vulnerable people, as well as an erosion of biodiversity, increased challenges in providing food and shelter, and the potential loss of entire countries owing to climate change's effects.
The Elders are adamant about keeping global warming to 1.5 degrees Celsius.
A just approach to addressing climate change entails not only allowing the most vulnerable to participate completely and putting in more efforts to take urgent action against the crisis. But also assists underdeveloped and economically weaker countries in getting well adapted to the effects caused by climate change by providing more financial help for the development of low carbon solutions and making this technology accessible to them.
⫸ What is the UN COP26 Summit?
The discussions were being held under the auspices of the United Nations Framework Convention on Climate Change (UNFCCC), an international treaty signed in 1992 at the Rio Earth Summit to combat global warming and its consequences. It was enacted in 1994.
COP is short for the "conference of the parties". It is a gathering of the UNFCCC's 197 signatories – 196 nations plus the EU – to make decisions on how to implement the pact. This was the first Conference of the Parties (COP) since COP25, which took place in Madrid in 2019.
The 26th United Nations Framework Convention on Climate Change (UNFCCC) conference, UN COP26, was initially scheduled for November 2020 but was postponed owing to the coronavirus epidemic.
▶ Around 200 countries were asked for their ideas on how to reduce their emissions by the year 2030, for COP26.
▶ This has been the 26th summit in the list of annual summits.
▶ According to the Paris Agreement taken into consideration in 2015, the different countries were asked to ensure the rate of global warming to be "well below" 2°C and if they could, try to make it even lower up to 1.5°C so as to prevent a large climatic catastrophe.
The goal of UN COP26 can be said as keeping the emissions at the limit until they reach their net-zero by 2050.
💠 Decisions taken under the Paris Agreement-
In Paris, all governments sincerely pledged to bring more ambitious 2030 promises to UN COP26 in order to close the enormous 2030 emissions gap that was already visible in 2015.
The Agreement that was made in Paris makes us compare the directions of the process which in order shows us that making many progressive changes are possible. 
197 countries, keeping aside all their differences, agreed to work together to make a point that all the multilateral processes can only be built on trust and word, which in turn shows respect for the capacity of the engagement of smaller delegations to yield a strong result.
▶ It is crucial for all the countries under the Paris Agreement to take the commitments made by themselves seriously and also to incorporate their Nationally defined contributions so as to make the world progress towards a greener yet more sustainable path towards growth and economic development.
▶ The Elders also recognized that the Paris Agreement commitments are only a first step toward limiting climate change to 1.5 degrees Celsius and that governments will need to scale up and accelerate their climate change measures if we are to achieve a carbon-free future.
▶ The agreement based on climatic issues formed in Paris reached UN COP21 was a major historic event. 196 nations coming together and joining hands for the betterment of the future was very rare and displayed encouragement for global solidarity and hope.
▶ However, that hope needs to be turned into a solid action plan urgently and needs to be worked upon a lot to ensure the limiting of warming to 1.5 °C.
We risk producing one of the greatest injustices in human history if governments do not act fast and deliberately, denying future generations their entitlement to a habitable, sustainable Earth. If we do not act now, mankind as a whole will suffer.
It is possible to find a solution. We have the means and technology to transition to a low-carbon economy and eliminate our dependence on fossil fuels. We can unify around the shared vision of a sustainable, equitable future with bold, revolutionary leadership at the global level and grassroots insight and innovation.
⫸ Topics of concern of UN COP26:
The discussions in Glasgow for two weeks straight started off on the G20 Leaders' summit which was held in Rome on 30-31st October.
It was expected to make its major observations on the phasing out of fossil fuels and the delivery of a greater ambition under the Paris Agreement in 2015 on the limitation on the global rise in temperature to 1.5°C above pre-industrial levels. 
In the first few days of UN COP26, heads of state attended the World Leaders Summit, where they delivered statements and, presumably, make new promises, setting the tone for the negotiations.
Each day of the talks had a theme or combination of themes that served as a focus for events and discussions, such as finance, energy, adaptation, and loss and damage.
⫸ Attendees of UN COP26 - Glasgow:
The summit was attended by around 25,000 people from all over the 200 nations including the presence of around 120 heads of state in the first few days.
▶ Prince Charles addressed the opening ceremony in person on behalf of Queen Elizabeth.
▶ American President Joe Biden, German Chancellor Angela Merkel, French President Emmanuel Macron, Indian Prime Minister Narendra Modi, Ukrainian President Volodymyr Zelensky, Spanish Prime Minister Pedro Sánchez, Dutch Prime Minister Mark Rutte, Canadian Prime Minister Justin Trudeau, Israeli Prime Minister Naftali Bennett, Egyptian President Abdel Fattah el-Sisi, Japanese Prime Minister Fumio Kishida, and Indonesian President Joko Widodo.
▶ Former American President Barack Obama, English broadcaster & natural historian David Attenborough, Australian Prime Minister Scott Morrison spoke at the summit.
▶ During all the earlier discussions held in Madrid, around half of the attendees were either government delegates or different campaigners, businessmen, experts, journalists, or citizens.
▶ Delegates from underdeveloped nations and civil society have warned that the discussions might not be inclusive because vaccine, travel, and quarantine difficulties have limited their in-person participation.
⫸ Which agreements were taken into action?
The remaining aspects of the "Paris rulebook" – operationalizing the Paris Agreement – were the focus of negotiations in the second week.
▶ The whole world had only 8 years in order to reduce the emissions by an exceeding 28 gigatonnes of CO2 equivalent to maintain the global warming temperature to be below 1.5°C, over and beyond which in the updated form of NDCs and the commitments of 2030, is guaranteed.
▶ To put this figure in context, carbon dioxide emissions are estimated to reach 33 gigatonnes by 2021.
▶ Annual CO2 emissions are close to 60 Gt CO2 when all other greenhouse gases are taken into account.
▶ As a result, if we are to meet the 1.5°C objectives, we must practically half greenhouse gas emissions. The additional requirement for the 2°C objectives is lower: a reduction in annual CO2 emissions of 13 Gt CO2e by 2030.
The research, according to Alok Sharma, the incoming UN COP26 President, highlights why countries must demonstrate aggressive climate action at COP26: 
"As this research shows, assuming nations meet their 2030 NDCs and net-zero pledges, which were announced by the end of September, we will be on track for global average temperature rises of just over 2 degrees Celsius." 
Complementary analyses imply that the Paris agreements would have kept the temperature rise below 4°C.
"There has been improvement," he concluded, "but that isn't enough."
"If we are to maintain a 1.5 degrees Celsius temperature upto our reach in this certain period of time, we need the G20 nations who are considered the largest emitters to come forward to stronger and better pledges for 2030."
💠 Zeroing in on net-zero:
According to the authors, net-zero promises – and their proper implementation – might make a major difference, but existing plans are imprecise and not represented in NDCs. A total of 49 countries, including the EU, have committed to a net-zero goal.
This accounts for more than half of worldwide residential greenhouse gas emissions, half of global GDP, and a third of the world's population. Eleven targets, totaling 12% of world emissions, are incorporated in legislation.
Net-zero targets, if made resilient and completely implemented, might reduce global warming by 0.5°C, bringing the expected temperature rise to 2.2°C. Many national climate policies, on the other hand, postpone action until after 2030, raising uncertainties about whether net-zero pledges can be met.
Twelve G20 members have committed to a net-zero goal, but their commitments are still vague. To be in line with the 2030 targets, action must also be prioritized.
💠 The Potential of Methane and Market Mechanisms:
The Emissions Gap Report examines the potential of various sectors every year. Its concentration this year is on methane and market processes. In the medium term, reducing methane emissions from the fossil fuel, waste, and agriculture sectors can help close the emissions gap and reduce warming.
▶ The second largest contributor to global warming is methane emissions. Over a 20-year horizon, the gas has a global warming potential over 80 times that of carbon dioxide; it also has a shorter lifetime in the atmosphere than carbon dioxide – only twelve years, compared to hundreds for CO2 – so methane reductions will limit temperature increases faster than reductions in CO2.
▶ Technical measures that are currently available for free or at a modest cost could cut anthropogenic methane emissions by roughly 20% per year. If all of the remedies are implemented, together with broader structural and behavioral changes, anthropogenic methane emissions might be reduced by about 45 %.
Meanwhile, carbon markets have the potential to lower prices and so inspire more ambitious reduction promises, but only if rules are clearly defined, transactions reflect actual emissions reductions, and procedures to assess progress and offer transparency are in place
💠 COVID-19 recovery opportunity largely missed:
The COVID-19 epidemic resulted in a 5.4 percent reduction in world CO2 emissions in 2020. CO2 and non-CO2 emissions, on the other hand, are predicted to grow again in 2021, albeit to a level only slightly lower than the record high set in 2019.
Up until May 2021, just about 20% of total recovery investments are expected to reduce greenhouse gas emissions. Six G20 members and one permanent guest account for over 90% of the total expenses.
COVID-19 spending in low-income economies (USD 60 per person) has been significantly lower than in advanced economies (USD 11,800 per person). Finance gaps are likely to worsen gaps in climate resilience and mitigation measures in vulnerable countries.
⫸ Why is UN COP26 important?
UN COP26 is the first major test of the Paris Agreement, which was signed in 2015.
◆◆ When governments discussed this, they committed to keep global average temperature rises well below 2 degrees Celsius and work toward a limit of 1.5 degrees Celsius above pre-industrial levels.
◆◆ They developed a ratchet mechanism to encourage regular increases in national ambition and a focus on adopting short-term action to reduce and adapt to climate change to stay on pace with fulfilling the agreement's goals, including staying under 1.5 degrees Celsius.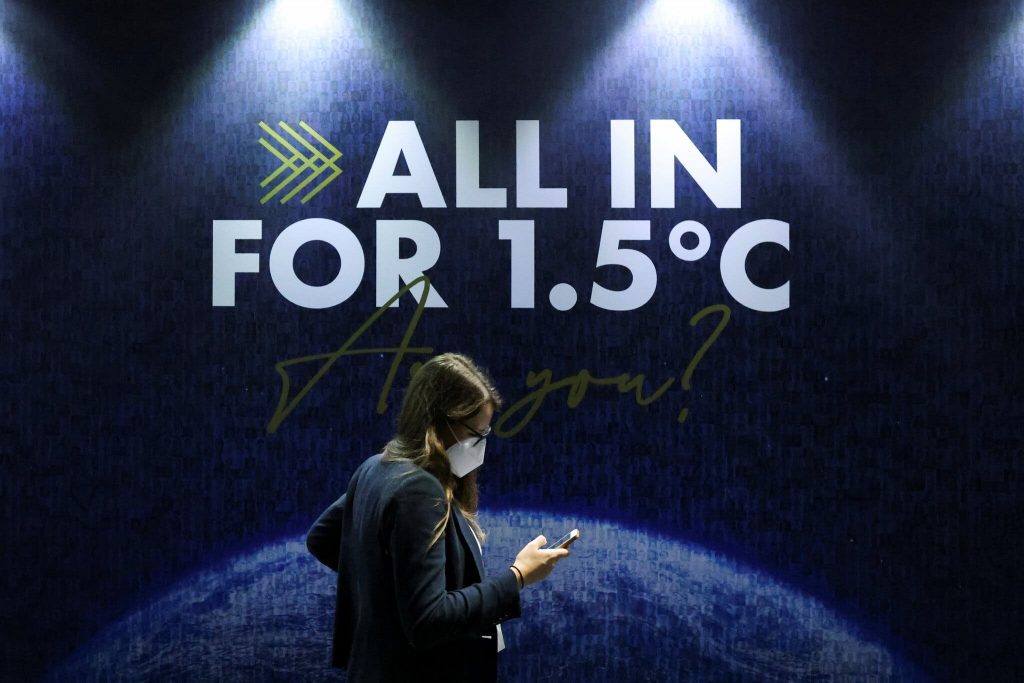 This is dependent on countries agreeing to update and strengthen their national climate obligations, known as nationally determined contributions (NDCs), every five years. Those five years ended in December, but because of the epidemic and the postponing of last year's meetings, countries have been slow to update their NDCs.